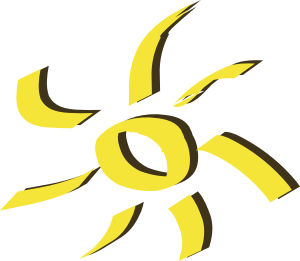 After reviewing the new statutory sections that SB 206 would add to the Kansas Open Records Act (KORA) and the Kansas Open Meetings Act (KOMA) last Friday, today I will examine the proposed changes to existing statutory provisions.  For reference, SB 206 can be found here.
Sections 10 and 14 of SB 206 would amend the existing statutory open government enforcement provisions now found in K.S.A. 45-222 and K.S.A. 75-4320a.  As in the existing versions, Sections 10(a) and 14(a) would grant the district court "in which the public records are located" or "in which a meeting is held" jurisdiction to hear an enforcement action brought by "any person."  These enforcement mechanisms would remain available to the plaintiff in addition to the alternative dispute resolution-style provisions outlined in SB 206's new statutory sections discussed in this space last Friday. The amendments would add "declaratory judgment" as a specific option for the litigants and the court to consider in resolving an open records or open meetings dispute, and also specifically set forth the district court's power to "require a defendant to complete training approved by the attorney general concerning the requirements of the open records act."  Sections 10(a); 14(a).  These powers are consistent with those available to courts as set forth in SB 206's new statutory sections.
The KORA and the KOMA have long provided for recovery of attorney fees by private plaintiffs as set forth in K.S.A. 45-222(c) and costs as set forth in K.S.A. 75-4320a(c).  SB 206 would strengthen those provisions by specifically allowing the attorney general or the county or district attorney in connection with open government litigation to recover attorney fees.  Section 10(f) and 14(e).  In proceedings under KORA, costs and reasonable fees are due the prevailing plaintiff only if the "court finds that the agency's denial of access to the public record was not in good faith and without reasonable basis in fact or law."  K.S.A. 45-222(c); Sections 10(d) and (f).  Likewise, in proceedings under KOMA, private plaintiffs would still only recover costs under Section 14(c), but the attorney general or county or district attorney "may" recover reasonable attorney expenses and fees, as well as investigation costs, and "shall" recover the same if the court determines that the "violation was not in good faith and without a reasonable basis in law and fact."  Section 14(e).  I don't understand why under KOMA a prevailing state plaintiff is entitled to an award of attorney fees while a similarly-situated private litigant isn't, but that is consistent with the current version of KOMA.  At  least Section 14 provides a mechanism for the recovery of attorney fees incurred in connection with bringing an action under KOMA where none existed previously.
However, my biggest issues with regard to Sections 10 and 14, and SB 206 as a whole, are subsections 10(c) and 14(b).  Section 10(c) provide that "[i]n any action hereunder, or under section 1, and amendments thereto, the burden of proof shall be on the public agency to sustain its action."  Section 10(c)(emphasis added).  Section 14(b) is identical except that it references section 4 of SB 206, applicable to KOMA.  While I completely agree that the burden of proof to justify closure of a record should be on the public agency subject to litigation under K.S.A. 45-222 and K.S.A. 75-4320a, I question the necessity of the italicized portion.
Sections 1 and 4 already address the applicable evidentiary standard in two places: the "attorney general may determine by a preponderance of the evidence after an investigation that a public agency" is in violation of either KORA or KOMA.  Sections 1(a); 4(a)(emphasis added).  Once that standard is met, the attorney general may simply proceed with obtaining a consent order under (a)(1), or making a finding of violation under (a)(2).  Further, if the attorney general brings an action to enforce a consent order or a finding of violation, the district court is required to enforce the terms of the consent order or finding of violation as long as it determines that the attorney general "did not abuse the attorney general's discretion."  Section 1(c)(4); 4(c)(3)(emphasis added).  Thus, the requirement set forth in Sections 10(c) and 14(b) that government agencies bear the burden of proof in actions proceeding under Sections 1 and 4 appear to be inconsistent with the plain language of those sections.
Sections 11 and 13 are a simple amendments to the manner in which civil penalties are collected set forth in K.S.A. 45-223 and K.S.A 75-4320.  The amendments would acknowledge that any such penalties paid as a result of proceedings under the KORA or KOMA shall be paid to the "attorney general's open government fund" established in Section 7 of SB 206 rather than to the "state general fund."
Sections 12 and 15 would amend K.S.A. 45-228 and K.S.A. 75-4320b, which sets forth the powers available to the attorney general and county attorney when investigating an open government violation.  Sections 12(a) and 15(a) would now specifically allow that "records" as well as "documentary material" may be subpoenaed from a public agency, and gives the investigating attorney the ability to "administer oaths and affirmations."  Section 12(c) and 15(b) specifies the manner in which interrogatories and subpoenas are to be issued, and Sections 12(d) and 15(c) provides for remedies in the event the agency refuses to comply with any "request for information."
In contrast to the powers vested in the plaintiff elsewhere in these sections, Section 12(b) would give an agency defending against KORA litigation a mechanism to prevent public disclosure of subpoenaed records pending a court ruling.  Subsection (b) provides that an agency claim "in writing that any records or documents…obtained…pursuant to subsection (a) are exempt from disclosure for any reason, the attorney general or a county or district attorney shall not further disclose that record or document…unless ordered to do so by a district court."  Although this provision on its face could seem to stifle open government, as it could prevent immediate disclosure of documents that may well be subject to a KORA request, the intent appears to be to incentivize agencies to fully disclose records in the course of discovery.  Further, given the likelihood of court involvement once subpoenas have been issued, it makes sense to let the court determine whether and how subpoenaed documents should be disclosed.
As with its proposed new statutes, the amendments set forth in SB 206 are worthy of support.  A hearing on the bill will be held before the Senate Judiciary Committee on Wednesday, February 18 at 10:30 a.m.  Perhaps at that time the reasons for the "burden of proof" language in these amendments insofar as it relates to the new sections will become clear.