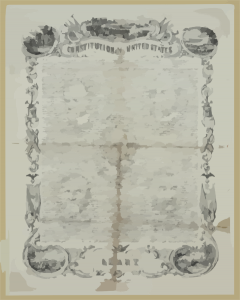 On February 18, 2015, the House Education Committee had a hearing on HB 2234 seeking to forbid state employees from including their titles in op-ed article contributions to newspapers.  The Topeka Capital-Journal reported that Reps. Virgil Peck, R-Tyro, and Joe Seiwert, R-Pretty Prairie, in advocating for the bill, offered an "amendment that would apparently allow university employees to use their titles if their institution adopts a policy allowing it."  However, both still refused to acknowledge the source of the bill, with Rep. Peck stating that he introduced the bill "as a courtesy to the chairman of the Local Government Committee."
The hearing served to illuminate the purpose the bill's proponent believed it would serve; as I outlined last week, the bill lacks constitutional on its face if there is no legitimate state interest, let alone a compelling one.  From cjonline.com:
"Asked why he had singled out university employees, Seiwert said he had never seen anything from employees in other state agencies. Seiwert said a constituent had sent him a number of newspaper columns that the constituent had been offended by, and that he was trying to support his constituent.
'He doesn't think taxpayer-supported agencies should be bashing legislators, legislative policy. If they're going to use their official title, on this bill, to talk about three things: what makes it good, what makes it bad, or how to change it — they can use it. But to call me dull, or somebody from Mars, or mispronounce my name, that's not professionalism.'"
While opinion pieces on matters of public concern, such as the legislative agenda of elected lawmakers, may sometimes offend the subjects of those pieces, there is simply no state interest, compelling or otherwise, in suppressing the speech of university employees in regard to opinions on legislative policy.  In fact, as stated by John Montgomery, editor and publisher of The Hutchinson News when the Lawrence Journal-World asked him for comment on the bill, "[i]t's especially troubling because at our universities we should be promoting critical thinking and free expression, not suppressing it."
There are times when legislative acts, and legislators themselves, trigger criticism.  However, democracy is based on debate and the exchange of ideas.  Barring the manner in which those who could speak knowledgeably on a matter of public concern are able to identify themselves does not advance any state interest.
As the Capital-Journal opined, this bill should be permanently tabled.