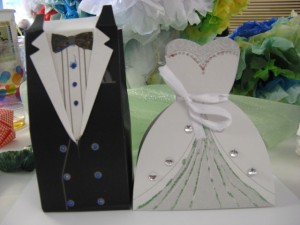 On March 13, 2015, the public was notified that the Kansas Supreme Court is considering adding subsection (d) to Supreme Court Rule 106 that would ostensibly "clarify the treatment of personally identifiable information in marriage licensing documents maintained by the district courts."  As per the notice that accompanies the proposed new rule, "[t]he proposed changes to Rule 106 are available for review on the Court's website at: http://www.kscourts.org/kansas-courts/general-information/proposed_rules_2015/Rule106031315.pdf"
Further, the notice states that the Court is "accepting comments on the proposed rule changes until April 12, 2015.  Comments may be addressed to publiccomments@kscourts.org"
Currently, applicable statutes indicate the marriage information is a public record.  Once the applicants are married, the clerk of the district court in which the marriage took place "shall record the marriage on the marriage record in the office of the…clerk."  K.S.A. 23-2511(a).  The "marriage record" constitutes a "public record" under the Kansas Open Records Act (KORA) because it is "recorded information, regardless of form or characteristics, which is made, maintained or kept by or is in the possession of any public agency."  K.S.A. 45-217(g)(1).  The Kansas Department of Health and Environment concurs, noting that "[m]arriage information is open to the public at the county district court level."
However, new section SCR 106(d) would expressly exclude marriage information, including marriage licenses, from the KORA, providing that "Documents used to obtain a marriage license are confidential and are not subject to disclosure under the Kansas Open Records Act."  Subsection (1) broadly defines "marriage licensing document," and subsection (2) allows for exceptions to the nondisclosure requirement for the married individuals, the court, a "court employee assigned to the case," the Kansas Department of Health and Environment.  Subsection (4) allows for couples married prior to July 1, 2015, when this rule would become effective, to make their marriage information confidential upon court order.
Subsection (3) refers to the "marriage record" set forth in K.S.A. 23-2511(a), and would expressly limit its contents: "District courts must make publicly available a limited marriage record as prescribed by the Judicial Administrator. The content of a limited marriage record must not include the following personal information:
(i) an applicant's Social Security number;
(ii) an applicant's date or city of birth;
(iii) an applicant's mother's maiden name; or
(iv) any information expressly designated as confidential on forms promulgated by the Kansas Department of Health and Environment under K.S.A. 23-2509."
While Fresh Takes understands that a move to standardize the protection of personally identifiable information on a statewide level, and concurs that Social Security Numbers, in particular, should not generally be disclosed, the "limited marriage record" proposed in subsection (3) is insufficient to meet the needs of the public and the public policy of openness set forth in the KORA.  Members of the public could be interested in the information for a variety of reasons, from determining whether the person they are dating has been married before or is currently married to researching genealogy.  Further, in order to meet its obligations for accuracy, the news media relies on identifiers such as birth dates to corroborate information it learns and subsequently publishes.  Names of the parties alone would be insufficient to ensure accuracy for any of those purposes, all of which are squarely within the public interest.
Also troubling is that neither the notice nor the rule itself set forth any particular concerns, findings, or reasons why this proposed amendment to SCR 106 is necessary.  The closing of records previously considered public record, as here, should be treated similarly to the closing of court hearings and records in criminal cases under Kansas City Star Co. v. Fossey and Wichita Eagle Beacon Co. v. Owens.  In those cases, the Kansas Supreme Court found that closure is appropriate only if no reasonable alternatives exist, and the findings of fact showing why such reasonable alternatives are impracticable and closure is thus necessary.  Although Fresh Takes appreciates the "limited marriage record" suggested in subsection (3) as an apparent attempt to provide a reasonable alternative, it is simply insufficient to meet the public's needs.
Additional reasonable alternatives should be explored before SCR 106 adopted.  Even if the Court determines that the substantive portions of the rule are to be effective as of July 1, 2015, the amendment should be further amended to include findings that the amendments are necessary and why.