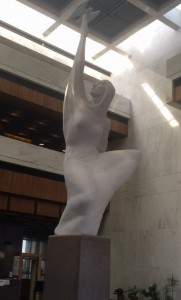 April 1, 2015
Kansas Supreme Court
301 SW 10th Ave.
Topeka, KS 66612
Re: Comment on Proposed Changes to Kansas Supreme Court Rule 106
Dear Justice Nuss and Members of the Kansas Supreme Court:
As one interested in freedom of expression and freedom of information, I have examined the proposed amendment to Supreme Court Rule 106.   I appreciate the opportunity to comment on the amendment and respectfully submit the following for the Court's consideration.
The amendment is difficult to evaluate because it is not accompanied by any particular concerns, findings, or reasons why nondisclosure of marriage information under the Kansas Open Records Act (KORA) is suddenly necessary. There is substantial authority indicating that marriage information properly is an open public record, and thus available under KORA. K.S.A. 23-2511 provides that "[t]he judge or clerk shall record the marriage on the marriage record in the office of the judge or clerk." K.S.A. 23-2514 provides that "the judge or clerk of the district court shall keep a correct copy of all marriage licenses returned with the endorsement on the license by the person performing the marriage ceremony."  K.S.A. 23-2518 provides that "[t]he books of record of marriage licenses issued, to be kept by the judges of the district court of the several counties, and copies of entries therein, certified by such judge under his or her official seal, shall be evidence in all courts."
These statutes clearly support the proposition that marriage information is a public record under the definition set forth in K.S.A. 45-217(g)(1). Moreover, the legislature enacted the KORA after debate and a vote by both houses and has never exempted marriage information from disclosure.
Further, any non-legislative closing of court records previously considered open, as here, should be treated similarly to the closing of court hearings and records in criminal cases under Kansas City Star Co. v. Fossey, 230 Kan. 240 (1981) and Wichita Eagle Beacon Co. v. Owens, 271 Kan. 710, 713 (2001). In those cases, this Court found that closure is appropriate only if no reasonable alternatives exist, and the findings of fact showing why such reasonable alternatives are impracticable and closure is thus necessary.
Although the "limited marriage record" suggested in subsection (3) of the amendment may be an attempt to avoid complete closure of marriage information, it is simply insufficient to meet the public's needs and the public policy of openness set forth in the KORA.  Members of the public could be interested in the information for a variety of reasons, from determining whether the person they are dating has been married before or is currently married to researching genealogy.  Further, in order to meet its obligations for accuracy, the news media relies on identifiers such as birth dates to corroborate information it learns and subsequently publishes.  Names of the parties alone would be insufficient to ensure accuracy for any of those purposes, all of which are squarely within the public interest.
I know of no outcry compelling the state of Kansas to change the manner in which it keeps its marriage information. However, I am aware that marriage information includes the participants' social security numbers, disclosure of which could then lead to identify theft. While that is a problem, it can be solved without making virtually all marriage information confidential.
Under K.S.A. 45-221(a)(30), any documents "containing information of a personal nature where the public disclosure thereof would constitute a clearly unwarranted invasion of personal privacy" are exempt from disclosure under KORA. This Court could simply amend Rule 106 or otherwise hold that disclosure of social security numbers included in court records, whether marriage information or not, would be considered a "clearly unwarranted invasion of personal privacy," and thus exempt from disclosure.
Ultimately, other than the redaction of social security numbers, and for all the foregoing reasons, I urge that the Court not modify the manner in which marriage information is kept.
Sincerely yours,
Maxwell E. Kautsch