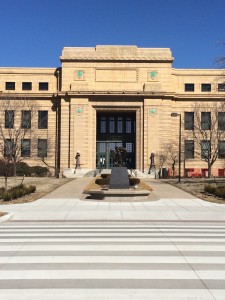 Earlier this month, Douglas County District Court Judge James McCabria declined to grant summary judgment in Hall v. University of Kansas, thereby requiring that the case proceed to trial. The case arose when KU lecturer Dr. Art Hall obtained injunctive relief late last year against the university preventing it from disclosing documents requested by a student group under the Kansas Open Records Act (KORA).
According to media reports, the judge ordered that the matter must proceed to trial because factual disputes remain, including whether or not Hall is an employee.  However, Fresh Takes believes the evidence plainly shows that Dr. Hall is a KU employee, and thus subject to the KORA request.  He receives his paycheck from KU and conducts his duties as the executive director of the KU Center for Applied Economics, a public policy think-tank, in an office within KU's School of Business.
Regardless of whether he is or is not a KU employee, the requested records still are disclosable.   The key determination is whether the requested records relate to operations funded by public funds, and whether any disclosures of the requested records are subject to one of KORA's numerous exemptions set forth in K.S.A. 45-221. Even if the Court in this case were to conclude that Dr. Hall owns certain requested records, such as emails, the records are still subject to KORA to the extent that they relate to operations of the Center.
A record is public, and thus subject to KORA, if it is "any recorded information, regardless of form or characteristics, which is made, maintained or kept by or is in the possession of any public agency." K.S.A. 45-217(f)(1).  However, this broad definition of public records is subject to a limitation that is appealing to individuals in Dr. Hall's position. The Legislature expressly excluded from public records those that "are owned by a private person or entity and are not related to functions, activities, programs or operations funded by public funds." K.S.A. 45-217(f)(2) (emphasis added). Thus, Dr. Hall may try to demonstrate that he owns the requested records. However, even if he were to establish that he owns the records at issue, they would still be public and subject to disclosure as long as they are related to "activities, programs or operations funded by public funds."
The court filings in this matter indicate that the requested emails are related to such activities, programs or operations. As KU stated in its brief, "Dr. Hall cannot seriously suggest that he pays for his own employment. But his petition artfully avoids identifying who actually pays him for his work (the University pays him)….[S]elf-funded means….[Dr. Hall] is responsible for ensuring the financial viability and growth of the Center by building a fundraising network and implementing fundraising strategies. Fundraising includes obtaining funds for research projects from granting agencies, such stakeholders as KTEC and the Kansas Department of Commerce, and identifying and soliciting support from foundations and other potential donors."
Moreover, in the job description Dr. Hall included in his own filings, he reports to a superior, an Associate Dean for Academic Affairs, who is unquestionably involved with the operations of the public agency. The job description also provides that the Center for Applied Economics is operated by the KU School of Business. As the University stated in its brief, "the University of Kansas is a state agency, see K.S.A. 76-711-12, and Dr. Hall is the Director of the KU Center for Applied Economics." It follows that but for the programs, operations, and activities of the University of Kansas, a public agency, Dr. Hall's position would not exist. Thus, any records related to the operation of the Center relate to the "functions, activities, programs or operations funded by public funds," and thus are public records subject to KORA.
What is puzzling to Fresh Takes is the resistance of the Court to so find. It appears the court filings establish that the Center itself exists due to the expenditure of public funds, and it makes good sense that communications related to it would be subject to KORA.
Fresh Takes can only conclude that the Court is concerned about the alleged infringement on Dr. Hall's academic freedom that he suggests will befall him if the records are released. Fresh Takes appreciates concerns related to academic freedom, believes that universities should promote autonomy and creative thinking, and recognizes that disclosures inconsistent with those goals would indeed infringe on academic freedom.
However, KORA's exemptions, properly applied, alleviate these concerns. Moreover, it appears that the University has already taken such concerns into account, and applied an appropriate exemption in determining how to respond to the student group's request. In its brief, the University recounted its initial response to the requests: "after closely reviewing the emails on the University email system for materials that fall within the KORA exemptions, consulting with Dr. Hall, balancing its relationships with students like the Intervenor against the privacy interests of the faculty and the need for reasonable transparency, and fully mindful of the statute's necessary protections for research work in progress, K.S.A. 45-221(a)(20), the University decided to produce certain records." (emphasis added).
There is nothing in KU's response to the requests that suggests it was anything other than compliant with KORA. For KORA to be an effective means for the public to hold public agencies accountable, an agency's proper application thereof should be celebrated, not stalled in a court proceeding. KORA's existing exceptions, correctly applied, would suffice to protect academic freedom and address Dr. Hall's concerns.
Dr. Hall's records are public and should be released, but only subject to appropriate exemptions under KORA. The Court should endorse the University's approach, and that agency should be commended for responding to the request in a manner consistent with Kansas law.