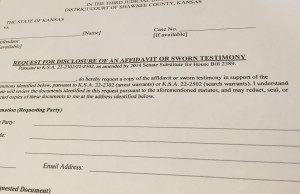 Fresh Takes has learned that in more than one jurisdiction throughout the state, judges who have ruled to disclose a probable cause affidavit to a requester under the procedure set forth in K.S.A. 22-2302(c) and K.S.A. 22-2502(e) do not then make the affidavit available to the general public. Instead, the judges require each subsequent requester to wait for a new ruling to disclose the affidavit. The judges who rule individually on every request for the same affidavit apparently rely on K.S.A. 22-2302(c)(1) and K.S.A. 22-2502(e)(1), which provide that affidavits "shall be made available to…any person, when requested, in accordance with the requirements of this subsection."  These outcomes suggest that some judges may be taking the position that the statute requires them to review each person's request for an affidavit, even if they already have released that affidavit to the first one who asked for it.
However, K.S.A. 22-2302 and K.S.A. 22-2502 plainly are not designed to compel a judge to conduct a full-blown review of each request for an affidavit that he or she already has released to the first one who asked for it. Once certain conditions are met, judges must order "disclosure of the affidavits" either completely or "with appropriate redaction." K.S.A. 22-2302(c)(5)(A); 22-2502(e)(5)(A). Moreover, both statutes refer to the affidavit as a record that under certain conditions becomes "open to the public." K.S.A. 22-2302(c)(1); 22-2502(e)(1). Thus, once an affidavit is made available to the first requester, it is an open record and should simply be placed in the court file, and any member of the public should be allowed to view it as a result of an open records request to the clerk of court.  The statute should not in interpreted so that each subsequent requester is required to wait for judicial review in order to gain access to a previously disclosed affidavit.
Furthermore, the Legislature could not have intended that judges review every request for an affidavit that they already have released as a public record to the first person who requested it. Repeated reviews to determine whether a public record document should be disclosed are unnecessary and inefficient. The Kansas Supreme Court has made clear that the Legislature "is presumed to intend that a statute be given a reasonable construction so as to avoid unreasonable or absurd results." Degollado v. Gallegos, 260 Kan. 169, 172 (1996). Further, the Kansas Supreme Court also has made clear that "a cardinal rule of construction is that the intent of the legislature governs if that intent can be ascertained." Id. Here, the Legislature's intent was to open probable cause affidavits to the public, and that intent should control interpretation of the statues. See Generally, Probable Cause Affidavits are Open in Kansas, Journal of the Kansas Bar Association, May, 2015.
Nothing in the statutes requires that an affidavit, once released to a requester, be kept from the general public. Once an affidavit is disclosed to one person, judges need not repeatedly decide whether to disclose it to others. Once is enough.