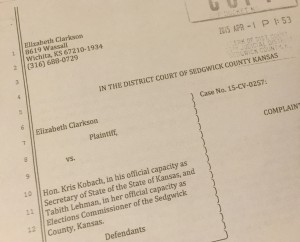 Wichita mathematician Dr. Beth Clarkson drew attention to the need for a major improvement in state voting law when she filed a Kansas Open Records Act (KORA) lawsuit earlier this year. Her suit seeks the electronic voting machine paper tapes known as the Real Time Audit Log (RTAL) from the 2014 elections in Sedgwick County so the public can "have a post-election audit to know the error rate and to have confidence in the final results."
Dr. Clarkson's lawsuit was in the news again last month when defendants Secretary of State and the Sedgwick County Elections Commissioner filed their answers to her complaint in district court. The defendants have denied her access to the RTAL primarily based on Kansas Election Crimes law. Further proceedings in the matter are pending.
Naturally, Fresh Takes highly commends Dr. Clarkson for bringing her action under KORA. However, it should not be the public's burden to invoke freedom of information laws in order to request access to the documents necessary to audit election results. In following the lead of other states, the legislature should reform Kansas voting law as follows:
in any election where votes are tabulated electronically, such tabulations should create an "auditable paper trail" so that electronic and paper records of the vote may be compared; and
election results should be available for audit under certain circumstances, such as in an election where the vote is extremely close.
These reforms would bring needed sunshine to the election process, and the public could be assured that electronic vote counts are accurate. Currently, the accuracy of an electronic vote count cannot be checked except in very limited circumstances, such as when a voter formally challenges the outcome of an election.
Fortunately, support for reform appears to be strong. There is recognition that, when ballots are cast electronically, they can be reliably verified only if they can be compared to a paper record of votes. In fact, Secretary of State Kris Kobach said earlier this year in response to the suit's filing that his "hope is that by the end of my second term, every county in Kansas will have a paper trail." This would be a welcome goal, as a national survey by a non-profit that "promotes accuracy, transparency and verifiability of elections" found that Kansas was one of about 20 states whose post-election audit process are "inadequate." Those survey results appear to be correct, as outside of very narrow circumstances, current Kansas law provides no meaningful mechanism under which anyone may audit election results.
Recent Sedgwick County elections, including the 2014 election at issue in Dr. Clarkson's lawsuit, are particularly subject to scrutiny because a majority of voters cast their votes using the iVotronic touch-screen voting system, a direct-recording electronic (DRE) voting system produced by ES&S. These particular touch-screen voting machines have been at the center of election controversies in other jurisdictions, such as in Florida and Arkansas, and discussed by commentators here. One of the biggest problems with DRE voting systems such as the iVotronic is their inability to produce results other than "verifiable printed documentation of precinct-level election results," (emphasis added), which means that results from any one particular polling place or voting booth are simply unavailable for an audit.
This red flag spurred Dr. Clarkson's analysis of the "precinct level" results she obtained as a result of her KORA request to the Sedgwick County Elections Commission. As reported by media ranging from the Topeka Capitol-Journal to americablog.com, she found that "that candidate support was correlated, to a statistically significant degree, with the size of the precinct. In Republican primaries, the bias has been toward the establishment candidates over tea partiers. In general elections, it has favored Republican candidates over Democrats, even when the demographics of the precincts in question suggested that the opposite should have been true."
These findings are consistent with those of a 2012 paper released by analysts Francois Choquette and James Johnson, who examined precinct level in 12 other states and found "the same pattern of election returns, which favor establishment Republican candidates in primaries and general elections," but that "[t]he irregularities are isolated to precincts that use 'Central Tabulator' voting machines" such as the iVotronic. Dr. Clarkson says she believes it is "probable" that in Sedgwick County, "the voting machines are being manipulated. Their vulnerability seems to me a fairly high-probability explanation for this particular pattern. It fits exactly what you'd expect to see if people are flipping the votes within voting machines."
Thus, in order for Dr. Clarkson to perform her audit, she needs access to the RTAL, which is the only record of the 2014 election results in Sedgwick County that was not produced by a DRE. According to Dr. Clarkson, the RTAL is a system designed to "record each keystroke" of each Sedgwick County citizen who voted electronically in the 2014 elections; the Election Commissioner described the resulting document in paragraph 17 of her Answer. Unlike the "results tapes" produced by the iVotronic, which are ultimately just "numbers inside the machines", the RTAL is the only way to audit the electronic votes cast during the 2014 election in Sedgwick County. In light of Dr. Clarkson's findings and questionable election outcomes involving the iVotronic in other jurisdiction, such an audit is squarely in the public interest.
Unfortunately, because Kansas has "inadequate" post-election audit laws, it appears unlikely that Dr. Clarkson will gain access to the RTAL as a result of her lawsuit. Even though the RTAL is defined as "public records" under KORA because it is "recorded information…in possession of" the Sedgwick County Elections Commissioner, a public agency, the RTAL is exempt from disclosure under K.S.A. 45-221(a)(1). That statute provides that a "public agency shall not be required to disclose…[r]ecords the disclosure of which is specifically prohibited or restricted by…state statute." As the RTAL is effectively the record of the votes that have been cast, it is highly likely that such information is subject to the "the contents of any ballot" provision set forth in the Kansas Election Crime statute K.S.A. 25-2422(a)(1), which the defendants have cited as a legal basis to deny access. That statute provides that disclosing ballot contents is unauthorized, and doing so is a felony. K.S.A. 25-2422(e). A very limited exception allows a judge to order disclosure of the RTAL as part of an "election contest" filed within five days after the results are certified. However, the exception is inapplicable to Dr. Clarkson's action because she brought it under KORA, not the Election Contest statutes.
Thus, even though the RTAL is a public record under KORA, it may not be disclosed because another statute prohibiting its disclosure, K.S.A. 25-2422, is incorporated by reference in the exemption set forth in K.S.A. 45-221(a)(1).  It should be noted, however, that even though this clear-cut exemption is available, and in fact was cited by the Election Commissioner in paragraph 15 of her Answer, Secretary of State Kris Kobach seems to believe that KORA does not apply at all to Dr. Clarkson's records lawsuit seeking access to the RTAL. Paragraph 3 of the Secretary's answer "denies that the records Plaintiff seeks are subject to the Kansas Open Records Act." Fresh Takes is disturbed that an elected official would assert in a court filing that KORA is inapplicable to records in possession of another state agency. There is no doubt that the RTAL is in the custody of a public official, as the Election Commissioner stated in paragraph 6 of her Answer that "[a]s Election Commissioner, Ms. Lehman has ultimate control of the records referenced in this request." Fresh Takes is even more perplexed given that the Secretary could achieve his purpose—denial of access to the RTAL—clearly, easily, and legally, with analysis under KORA, as argued by the Election Commissioner.
Be that as it may, and although Dr. Clarkson's lawsuit may not result in court-ordered disclosure of the RTAL, it is evident that Kansas needs more transparency and accountability in its elections than KORA can provide. Many other states have taken this step. For example, post-election audits in states such as Texas are automatically triggered under certain circumstances, usually involving results in races that are particularly close. New Mexico has banned DRE electronic voting systems such as iVotronic entirely, and instead uses optical scans of paper ballots after "[a]ctivists filed a voter lawsuit to end the use of electronic voting machines in elections that do not provide for a voter verifiable and auditable paper trail."
Fresh Takes strongly believes in Dr. Clarkson's quest to audit the 2014 Sedgwick County election, and regrets that the current state of the law may well prevent her suit from proceeding on its merits. Further complicating the matter is the Secretary's incorrect assertion that RTAL is not subject to KORA. Regardless, given Dr. Clarkson's findings about electronic voting irregularities and the "inadequate" state of current applicable law, the Legislature needs to follow up on Secretary Kobach's call for creating auditable paper trails of electronic votes by enacting a post-election audit law that will give Kansans confidence that such votes are being accurately counted.