When a local or state government agency in Kansas receives a request for a public record, the agency may assert that the entire record is exempt from disclosure under the Kansas Open Records Act (KORA). In conjunction with that assertion, an agency then may flatly deny the request for the record.  However, a flat denial may not be justified.  Under KORA, the agency is obligated to disclose any part of the requested record that is not exempt. To follow the law, the agency should release the record to the requester after redacting the exempt part.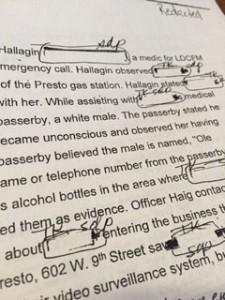 K.S.A. 45-221(a) of KORA provides that public agencies are "not required to disclose" certain kinds of public records.  Such records are considered to be "exempt" from disclosure.  If the records were not exempt, they would be open to the public for inspection.  Exempt records include, but are not limited to, "(r)ecords the disclosure of which is specifically prohibited or restricted by federal law," "personnel records", and "criminal investigation records."  See, e.g., K.S.A. 45-221(a)(1), (4) and (10).  Thus, K.S.A. 45-221(a) gives agencies the legal basis to deny a request for records that implicates any of 55 exemptions that are listed in KORA.
However, another portion of the statute balances those exemptions against a requirement that an agency disclose requested recordes with redactions.  In fact, K.S.A. 45-221(d) mandates that a public agency grant a request for a record if it contains exempt information that can be redacted.  The provision states:
"If a public record contains material which is not subject to disclosure pursuant to this act, the public agency shall separate or delete such material and make available to the requester that material in the public record which is subject to disclosure pursuant to this act."  In other words, in order for the public agency to comply with the law, K.S.A. 45-221(d) requires the agency disclose the portion of a record that is not subject to any exemption.
In this respect, KORA is consistent with the Kansas Supreme Court's ruling in Kansas City Star v Fossey and Wichita Eagle Beacon Co. v. Owens, where the Court held in part that a court record cannot be sealed in its entirety until the court has considered all "reasonable alternatives" to a blanket seal, which can include redaction.  K.S.A. 45-221(d) codifies that rule and applies it to KORA.
Moreover, K.S.A. 45-221(d) is consistent with the public policy underpinning KORA "that public records shall be open for inspection by any person unless otherwise provided by this act, and this act shall be liberally construed and applied to promote such policy."  Blanket denial of KORA requests is contrary to the required liberal construction of KORA, especially given the K.S.A. 45-221(d)'s mandate that agencies disclose records with redactions. Thus, absent highly unusual circumstances, blanket denials of KORA requests simply do not comport with the Act.
Max Kautsch is the Kansas legal hotline attorney for the Kansas Press Association and the Kansas Association of Broadcasters.  Send him an email here.