July 1, 2016, will mark the one-year anniversary of the passage of statutory amendments that conferred additional powers on the office of the Attorney General to penalize public agencies for violations of the Kansas Open Records Act (KORA) and Kansas Open Meetings Act (KOMA). Among other things, these new statutes give the AG subpoena power and the ability to "enter into a consent order with the public agency or issue a finding of violation to the public agency."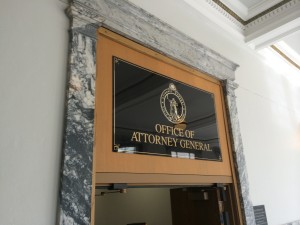 In response to the new powers, "Kansas Attorney General Derek Schmidt has reorganized parts of his office that enforce the state's open government laws."
As of this writing, news releases on the AG's website show the office has resolved only two open government violations since the new powers became effective. One occurred in March after the Wellington city council self-reported a KOMA violation near the end of 2015. The other stemmed from a citizen complaint filed against the city of Liebenthal all the way back in 2013 that was not resolved until January of this year. Although the AG resolved the Wellington matter in a relatively timely fashion, I am aware of open government complaints by news organization that, like the Liebenthal matter, took much longer.
If the AG's office is perceived as being slow to enforce KOMA and KORA, those who are aware of violations may be discouraged from submitting complaints. News organizations need information quickly if they are to meet their publishing and broadcasting deadlines. They, as well as the public, may be reluctant to submit complaints about open government violations if they lack confidence the AG will respond in in a timely way.
Regardless, the fact remains that the legislature has passed laws that cause the office of the Attorney General to be the primary enforcement mechanism for open government violations. Thus, it only makes sense to file complaints with that agency when issues arise, especially given that civil enforcement with a private attorney is a much more expensive proposition. Even if the complaint is not resolved in a timely fashion, the mere fact that it was filed makes a the complaint a matter of public record, and forces the Attorney General's Office to respond to it eventually. If the office gets backlogged with complaints, and is unable to enforce the law as contemplated by statute, such issues can be the basis for further streamlining open government enforcement laws going forward.
Filing a complaint with the AG's office is a matter of simply selecting the drop-down menu of the "Open Government" tab on the AG's homepage and clicking on the "File a Complaint" link. I filed two complaints on behalf of a client today, and it took me less than fifteen minutes to file each of them. Importantly, a lawyer is not necessary in order to file a complaint, and there is no filing fee.
Sometimes, filing a complaint with the AG's office is all that is necessary to redress a violation. Earlier this year, a television station in Wichita filed a KOMA complaint related to policies of Unified School District 428 in Great Bend.  The station aired a news report about its complaint and, within a matter of days, the school district released a statement indicating it would be making policy changes. The issue was resolved without any action by the AG's office.
Those of us who spend our professional or personal efforts attempting to obtain public records and attend open meetings know that government transparency in Kansas can be a real problem. Even so, I have been to open government "trainings" sponsored by the AG's office where the open government enforcement members of the panel do not seem to grasp the magnitude of the transparency problem in this state, at least in part because they do not receive enough complaints for them to believe it is an issue.
Correcting that apparent misconception is within reach. If you become aware of an open government violation, you should use the tools available, not only to hold public officials accountable, but also to serve notice on public agencies that they must comply with the law. Moreover, if you're a member of a news organization, you might be able to spur compliance just by reporting the fact that you filed a complaint.
So get those complaints on file!
Max Kautsch is the Kansas legal hotline attorney for the Kansas Press Association and the Kansas Association of Broadcasters. Send him an email here.